Getting Admitted To Drug And Alcohol Rehab
Admitting to treatment is a fast, accommodating, and straightforward process. Our team of admissions specialists will make sure that your loved one, employee, or patient receives the help they need. The admissions process is five steps in total and can happen all within the same day.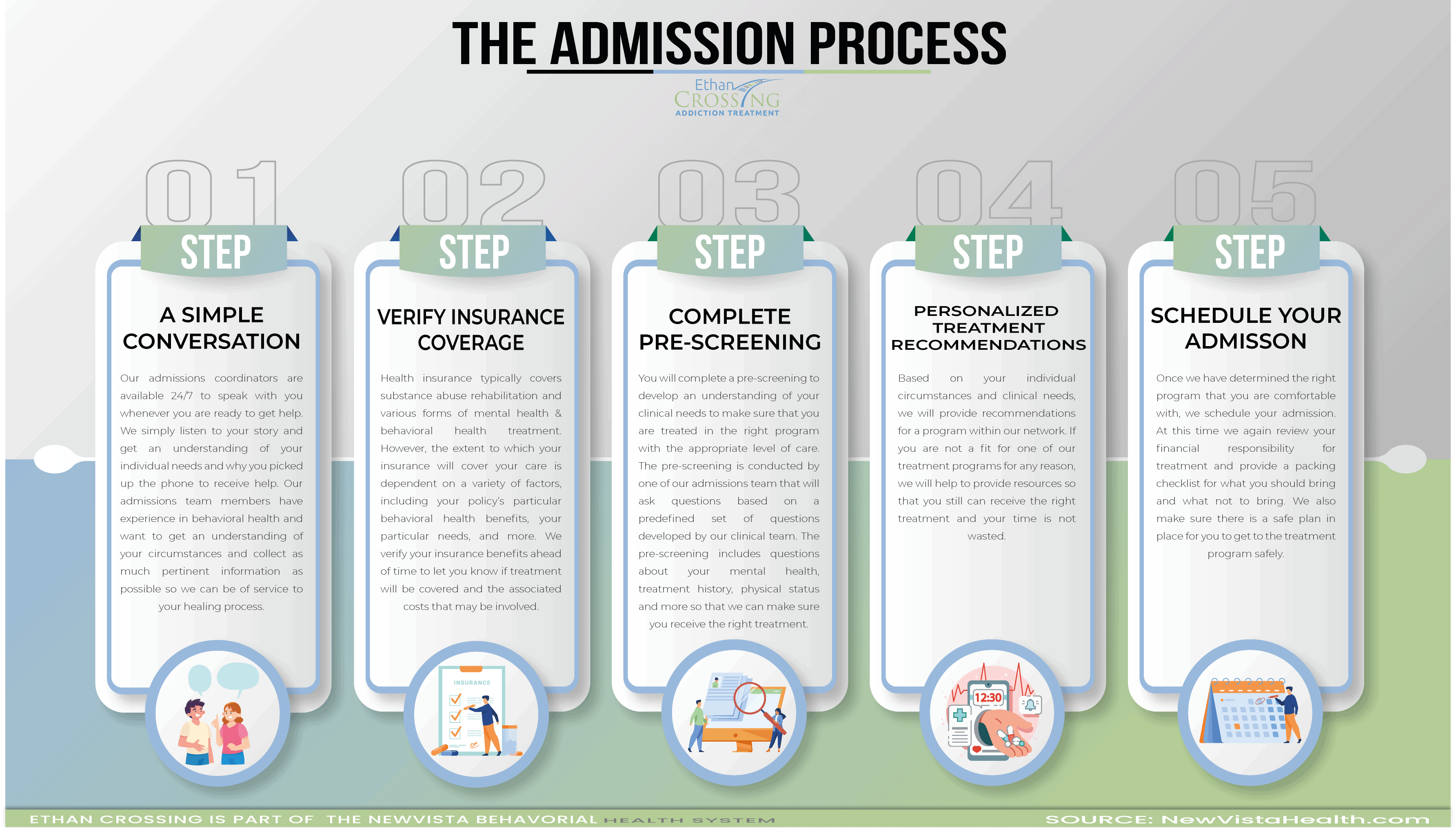 You can select one of the options below that fit you or continue reading to get an understanding of our complete intake process.
Through a wide array of treatment options, our patients learn how to rebuild their lives. Whether the individual in your life is struggling with alcohol addiction, opioid addiction, mental health issues, or another substance abuse issue, we offer hope, healing, and peace of mind. Most private and employer health insurance is accepted. Learn more by filling out a referral form from the choices above or by calling Ethan Crossing today. Let's hop right into the steps necessary to admit to treatment so you know what to expect.
Start Your Recovery Today
Steps For Admission To Addiction Treatment And Rehab
The first step in the admissions process is calling to speak with one of our admissions team. On this call, the admissions coordinator will speak with you to gain an understanding of your physical health and mental health. This information will help them to suggest options for the best course of treatment. Additionally, they will work with you on the logistics of attending treatment such as payment options and any needed travel arrangements. When you speak to an admissions coordinator, it is an easy, no-obligation conversation that is completely confidential.
Getting into rehab can be a high-stress time. Family, friends, employers, and housing arrangements can all be in disarray. That's why the steps to admit to rehab are simple and frictionless. We start with getting an understanding of your situation and need to make a determination of the right treatment facility and protocol. If you are not a fit for one of our programs, we still do our best to guide you to the right resources.
Step 1: A Simple Conversation
Our admissions coordinators are available 24/7 to speak with you whenever you are ready to get help. We simply listen to your story and get an understanding of your individual needs and why you picked up the phone to receive help. Our admissions team members have experience in behavioral health and want to get an understanding of your circumstances and collect as much pertinent information as possible so we can be of service to your healing process.
Step 2: Verify Insurance Coverage
Health insurance typically covers substance abuse rehabilitation and various forms of mental health & behavioral health treatment. However, the extent to which your insurance will cover your care is dependent on a variety of factors, including your policy's particular behavioral health benefits, your particular needs, and more. We verify your insurance benefits ahead of time to let you know if treatment will be covered and the associated costs that may be involved.
Step 3: Complete Pre-Screening
You will complete a pre-screening to develop an understanding of your clinical needs to make sure that you are treated in the right program with the appropriate level of care. The pre-screening is conducted by one of our admissions teams that will ask questions based on a predefined set of questions developed by our clinical team. The pre-screening includes questions about your mental health, treatment history, physical status, and more so that we can make sure you receive the right treatment.
Step 4: Personalized Treatment Recommendations
Based on your individual circumstances and clinical needs, we will provide recommendations for a program within our network. If you are not a fit for one of our treatment programs for any reason, we will help to provide resources so that you still can receive the right treatment and your time is not wasted.
Step 5: Schedule Your Admission
Once we have determined the right program that you are comfortable with, we schedule your admission. At this time we again review your financial responsibility for treatment and provide a packing checklist for what you should bring and what not to bring. We also make sure there is a safe plan in place for you to get to the treatment program safely.
Are You Still Offering Treatment During Covid?
Yes, We take every precaution and have remained open throughout the covid-19 pandemic. We are always on high alert for ways that we can keep our patients and staff safe and out of harms way. We have created and implemented very strict covid-19 protocols with your safety in mind.
Questions About The Treatment Process
Can My Family Visit Me in Treatment?
What Should I Bring With Me?
How long will I stay?
Can I bring my cat?
We answer all of the questions regarding the rehab process in our rehab guide and have a full packing list for you to view.
Admissions: Frequently Asked Questions
How long does the admissions process take?

The entire process can take less than two hours. After we collect your insurance information, the insurance team verify's your coverage while our admissions coordinators take down all of your information. After a full review, we will collectively make the decision if you are a fit for one of our centers. If you are, then we start scheduling your admission immediately. The phone conversation lasts about 45 minutes to 1 hour.

Is there a waiting list for admissions?

No, since we have multiple facilities we are usually able to find availability within our behavioral health system immediately.

Do I need to pay money up front to admit to rehab?

That is completely dependent upon your health insurance plan. We will verify your benefits and let you know immediately. We have in-network contracts with many insurance providers including:
If you are struggling with substance use disorder and require detox, we can help. Our team is friendly, caring and medically qualified to help you detox with dignity. If you want to learn more about the different detox protocols we have listed them below for various different substances.