At Ethan Crossing, we believe that intensive outpatient drug and alcohol treatment is only successful when you receive 10-12 hours of therapeutic care. This is divided between individual and group therapy so that you can make the most of your time with us. You visit our facility a couple of times a week for program participation and you will receive feedback from our team on your progress. Our goal is to help you learn the necessary coping skills, move forward with your healing, and feel supported on your journey.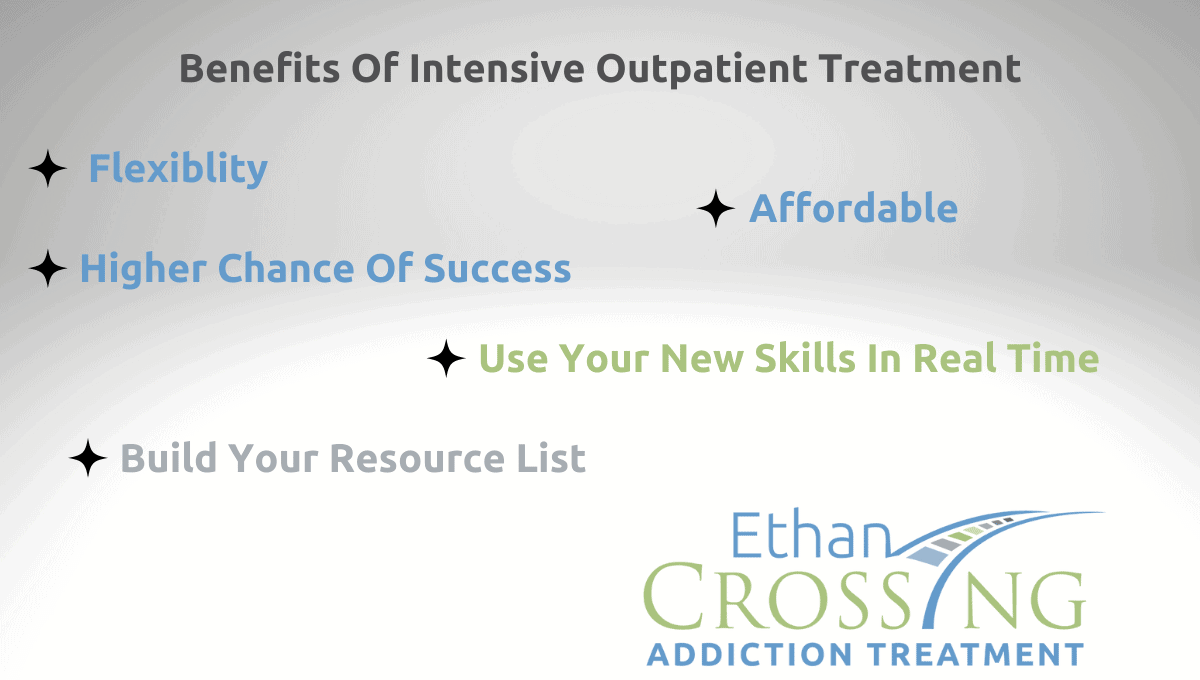 Benefits Of Intensive Outpatient
All treatment options come with a list of benefits and intensive outpatient is no different. Here are a few benefits you should consider:
Flexible: you can maintain a job or school while getting treatment.
Affordable: of all treatment programs, IOP is one of the more affordable options.
High Chance Of Success: IOP comes with a higher success rate than outpatient services.
Ability To Practice Skills: when you are learning new coping skills and communication techniques, you have the opportunity to practice them in your real life. Then you come back and report to us how it worked out. We can help you perfect your skills when you use them in your real life.
A Better Resource Toolbox: every person in recovery has to have a resource toolbox that helps them in their journey. This means a list of safe people outside of therapy to talk to, support groups, and phone numbers. While in IOP, we help you create that toolbox.
When someone enters treatment to gain control of their life, it only makes sense to have a program that sets you up for success. Our intensive outpatient treatment program is designed so that you gain control of your life and live it to the best of your ability.
Contact Our Treatment Center In Ohio
At Ethan Crossing Recovery, we are happy to provide you with the level of care that fits your needs. If you need to stay with your family, we understand. Above all, we will help you learn the triggers and root causes of your addiction. Then, our therapists and counselors can guide you to the skills and behaviors that lead to lifelong sobriety. Call us today to learn more about our IOP program.
Get Help Today
Reaching Out For Help Is The First Step To Recovery